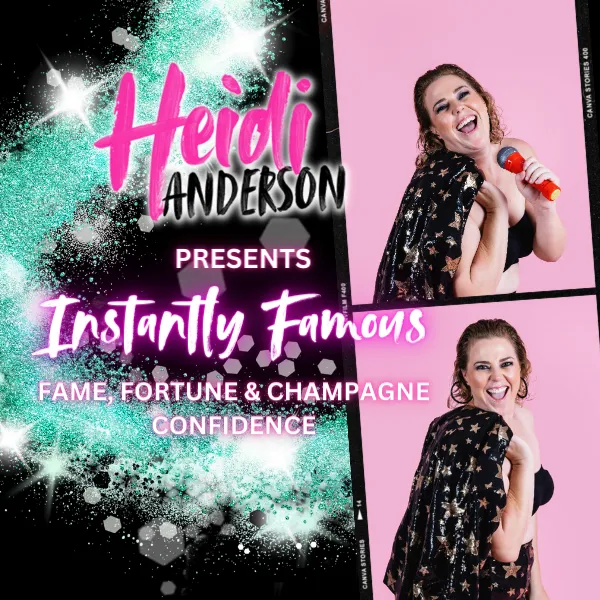 Instantly Famous
GAIN instant street cred, be recognised world wide & make more $$$ in just 21 days & YOU'LL become your own PR agent (WITHOUT paying $5K+ a month to an agency)
SIGN UP NOW!
1:1 VIP Coaching
The 1:1 VIP biz & brain coaching experience teaching "the how to" of standing the fuck out, growing your mind (and your bank balance), and making shit happen
SIGN UP NOW!
How does the thought of being Drunk On Confidence make you feel?
For me, it's a lifestyle. Being Drunk on Confidence isn't some throw-away phrase for an inspirational Insta caption. It's a complete shift in perspective that'll empower you with the confidence to get the most out of your life, every fucking day.
Let's be fucking real for a hot second. If you're an OG Heidi-fan (oh HEY!), you probs got to know radio-Heidi reeeeal well. The confident, bubbly, opinionated chick who made a living being hilarious (still am tbh). You didn't see the real Heidi. Me, struggling day in and day out with anxiety, feeling lost and low self-esteem.
So here's your invitation into my world. I'm taking you inside my deepest thoughts and my darkest days.
This is my story from lost and anxious to confident and self-assured. It's not just another soppy memoir. It's your intro into a shift in perspective and a movement impacting women worldwide.
Your alcohol-free bottle poppin' Sunday sesh, your ears have been craving since Heidi left the airwaves in 2019. Champagne Confidence is all about building confidence by stepping outside your comfort zone & empowering women to get off the hamster wheel, step into their power & start living their best f*cking life.
⬅️ LISTEN UP!
First Time Parents (Season 2 - Chronicles of a 3 year old)
First Time Parents is an unedited, unfiltered podcast about us, a newly married couple (Heidi Anderson ex-breakfast radio host now Stay At Home Mum & Sparky James "Griffo" Griffiths from Perth, Western Australia) as we tackle parenthood for the very first time, in all it's s****y & glorious moments.
LISTEN UP! ➡️
Not Your Average Anything...
Who TF's Heidi Anderson?
A perfectly imperfect combination of no BS and bang-on wisdom, I'm the top-rating ex-radio presenter and TV personality turned PR queen, Memph's mum, Griffo's misso, self-love & mental health advocate, author and host of the chart-topping podcast, Champagne Confidence 🍾
I'm your PR/media expert & hype queen with a dream of taking her stage show on the road. Inspiring women (like you) worldwide to get out of your own way and stop cock-blocking yourself so you can share your awesomeness with the mother-fucking world.
YOU SHOULD WRITE A BOOK!
You probs seen me in my red bikini featured on...
Here's why you need a bitta Heidi in your life
(aaaaand the audience goes wild...)
🇦🇺 LIVE ACROSS AUSTRALIA 🇦🇺
CHAMPAGNE CONFIDENCE goes Aussie wide on Studio10
I have seen the power behind the work we do, I have seen the changes in women around the world by doing the work, and I have deeply felt the strength in each of these women too.
We have been called BRAVE & INSPIRING but the truth is WE ARE US. Authentically showing up without fear of judgement.
VIP 1:1 access to me! Was that a full body FUCK YES to work with me? Get me all to yourself...
Get 1:1 access to my vibes, my energy, my experience, knowledge and confidence.
Leverage the fuck out of my expertise in:
💥 Media and biz contracts
💥 PR and exposure - this is my specialty
💥 Content ideas or memorable AF marketing tips
💥 Launching a podcast - mine went to #1
💥 A good ol' fashioned ass kicking & a lesson on how to stop cockblocking yourself
There's a few different ways to work with me, find out here!